Master of Science in Performance Coaching
Course Background
A key aim of the programme is to enable practitioners to integrate knowledge from a range of fields into the generation of performance solutions. Teaching and learning methods will be based on a blended learning format that will include a combination of online lectures, independent study, work based assessments, residential stay weeks and regular forum contributions. Through these methods practitioners will gain advanced knowledge of the theories and scientific principles that underpin sports performance, exercise and coaching.
This program provides the basis for the macro and micro planning decisions that underpin effective performance coaching. In total we provide a coherent approach to managing and applying current skills and practices necessary to advance the conditioning and monitoring system for the applied coach or practitioner within a development, elite movement, exercise and sporting environment. These modules, together with the practicum, will enable the practitioner to make effective decisions regarding programming of enhanced movement quality and fitness/conditioning development in a progressive manner. Further, the modules will enhance the practitioner's capability to critically appraise and integrate technology into an effective performance plan within their respective environments.
This program includes the important area of sports and exercise nutrition which aims to expand the skillset and competencies of the student within both exercise and nutritional science using evidence based science. The performance coach will also gain greater understanding of the principles of applied coaching which relate to the development of the athlete/performer and the factors related to his or her longevity. Further, the psychology of coaching which will also consider the 'softer' skills of performance coaching, such as communication and meaningful leadership are important components for the practitioner to hone. In addition, the practitioner will require an in-depth understanding and capacity to oversee the management of data within a growing technologically based performance and exercise environment. Having competence in data analysis skills is essential within a performance environment where there is technology driven data saturation. This will also link with building research skills which will advance the standard of work and the ability to effectively appraise the evidence used to support the decision making of the coach or exercise specialist and the performer's support team.
Residentials
Much of the learning on the course will occur through a mix of online modules and experiential learning, however, a key part of the course will be the residentials. Whilst the content of each residential will be dependent upon the modules undertaken, the overarching objectives will be similar.
Each residential will be designed to achieve the following three objectives:
To provide hands-on instruction and experience in the practical elements of the course content. Even though the course is focused mainly on an evidence-based practice approach, practical competency in the application of theory to practice and in the 'art' and 'craft' of coaching will be emphasised. Further, the competence in the use of and interpretation of data using a wide range of coaching technologies and the coaching process will be central to the face to face environment and thus the residential will ensure that practitioners receive high-class instruction in the key practical elements required for effective industry practice.
To allow for practical assessments and presentation-based assessments to be carried out.
To provide contextualisation and critical discussion of the topics covered in the online material. This will essentially be a flipped classroom approach to teaching. This medium will allow practitioners to share experiences and provide a highly interactive learning environment.
Course Duration
The programme duration is 84 weeks. This includes:
6 Online Modules (each module is 12 weeks in duration)
2 separate on-site residential weeks, practical application, and lectures.
Final Project (additional 3 months to complete)
A joint programme by:
Setanta College and the Irish American University
The Master of Science in Performance Coaching is awarded by Irish American University under its accreditation by the Middle States Commission on Higher Education, one of the world's leading accrediting bodies. Furthermore, Setanta College Professional Advisory Board, other subject matter experts, and international sporting organisations have informed, reviewed, and approved the course content. This includes World Rugby, the Titleist Performance Institute, and the NSCA who recognise our programmes and qualifications.

We have partnered with leading sports technology companies for this programme. Each partner has provided an overview of the background, current technology and future developments within sports performance analysis which is included in our modules. During the residential weeks, each of these companies will be represented to demonstrate the use and application of their product range.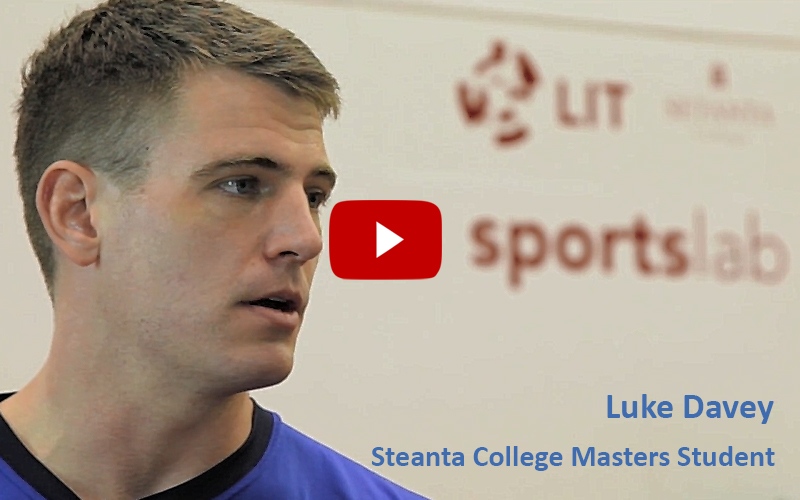 Luke Davey is Strength & Conditioning Manager at Hong Kong Rugby. Here he talks to Damian Lawlor about the role education and development has played with the advent of professionalism at HKR.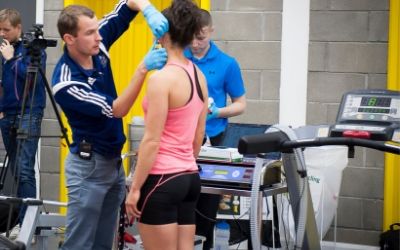 Hear directly from Setanta College founder, Dr. Liam Hennessy, and Programme Director, Dr. Joe Warne.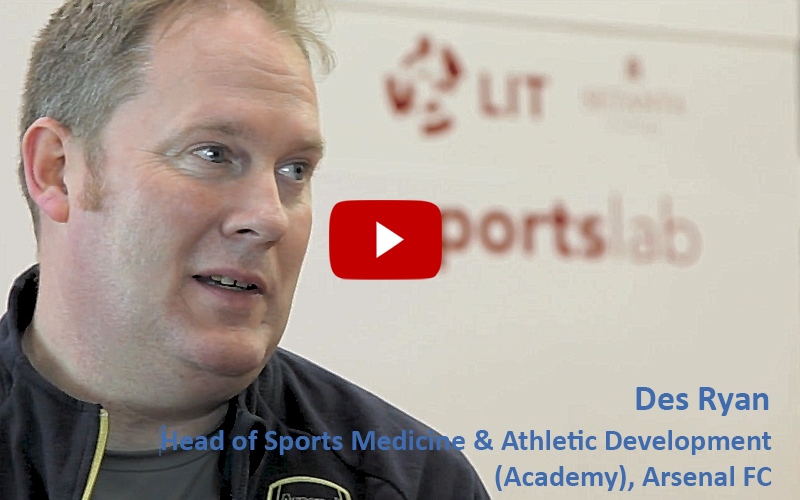 Des Ryan, Head of Sports Medicine and Athletic Development at the Arsenal FC Academy, caught up with Damian Lawlor during a workshop week.
Course Details & Enrolment
Each module will be assessed using an applied project. Details and guidance of this are provided at the start of each module.
Delivery Method Video Sample
Click to Play
On-site Attendance
During the second and fourth modules, students are required to attend residential weeks where hands-on training will be provided by our team of international lecturers, world renowned coaches, and industry experts. Students have a choice of attending these weeks in the US or Ireland. The US locations for 2020 are Citizens Bank Park in Philadelphia (during the second module) and FITTEAM Ballpark of the Palm Beaches Florida (during the fourth module).
In Ireland both residential weeks are held at Setanta HQ in Thurles, Co. Tipperary.
Final Project and Assessment
You will submit a final project following the completion of the six online modules. During the online element you will receive guidance and mentoring from a tutor who will assist you in the selection of a final project.
Our internationally accredited and industry-recognised qualification will give you:
An advanced understanding of both current and emerging technology, knowledge and practice in performance science.
Practical coaching skills in the application of technology in sport.
Preparation and encouragement to pursue future coaching and performance management opportunities.
Higher order creative, critical and reflective thinking skills that encourage application and evaluation.
A multidisciplinary approach to working confidently within sport and human performance at an elite level.
This course will produce graduates capable of coaching, planning, managing and implementing the latest sports technology and methodologies based on current science and its practical application. As such, it is expected that graduates will be well prepared to accept high levels of responsibility within a variety of sports and fitness industry sectors. They include but are not limited to:
Elite and Amateur levels in Team and Individual sports
National Governing Bodies of Sport (NGB)
Health and Public sector
Health and Fitness industry
Freelance and Consultancy
Sports Technology, Equipment and Performance Science
Our Alumni are highly employable throughout the world. Currently, our graduates are engaged in the following sectors:
Premiership Football
European Golf Tour
PGA Tour (USA)
AFL Australia
Australia Rugby Union
England Rugby Union
Irish Rugby Football Union
French Rugby Federation
NFL (USA)
World Rugby
International Sports Teams
Candidates may be accepted onto the programme with a 2.1 degree in any one of the following:
Strength and Conditioning, Sports Science, Sports Physiotherapy, Athletic Training or a similar field of study and at least three years relevant professional experience
OR
An appropriate professional qualification (such as CSCS, UKSCA) and at least five years of relevant experience
OR
Special Case Registrations: prospective participants who do not meet the entry requirements for the programme detailed above, but who may qualify for admission by meeting certain other equivalent criteria, should apply to the College Administrator for consideration. An interview may form part of the selection process for all application routes.
English proficiency to be demonstrated through any of the following:
– GCSE pass in English at Grade C or above
– IELTS with an average overall score of 6.5 for postgraduate study with at least a 5.5 in each component TOEFL IBT minimum score of 88 IBT for Postgraduate **
– Cambridge English: Advanced (CAE): exams taken from January 2015 – overall score of 176 for postgraduate study with at least 162 in each component; exams taken before January 2015 – Grade C and no less than borderline in each skill for undergraduate and postgraduate
– Trinity College English Language qualifications: ISE III Pass for postgraduate taught courses and research applications City and Guild's IESOL/ISESOL tests at expert and mastery levels (C2 and C1) for the majority of postgraduate programs.
– Pearson Test of English Academic (PTE Academic) with a minimum of 67 points in each element for the majority of postgraduate programs
Designed, Validated and Accredited by Industry Experts and Organisations
The Master of Science in Performance Coaching is a joint programme by Setanta College and Irish American University.

The Master of Science in Performance Coaching is awarded by Irish American University under its accreditation by the Middle States Commission on Higher Education, one of the world's leading accrediting bodies.
Furthermore, Setanta College Professional Advisory Board, other subject matter experts, and international sporting organisations have informed, reviewed, and approved the course content. This includes World Rugby, the Titleist Performance Institute and the NSCA (National Strength & Conditioning Association) who recognise our programmes and qualifications.
EU Students
Next Course Starts: September 21st 2020
International Students
Next Course Starts: September 21st 2020
IMPORTANT: There is no automatic entry on to the Programme. To be considered for the Master of Science in Performance Coaching, please complete the Application Form by clicking the button below:
Speak to a Student Advisor